10 Dishes That Define New Orleans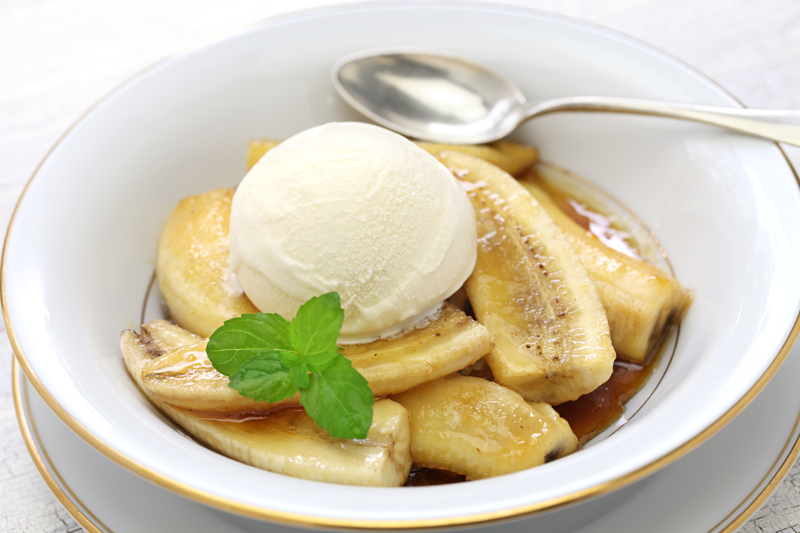 These delicious renditions of southern, and New Orleans in particular, dishes make the food-bucket lists of many a visitor. They're easily found in many restaurants across the French Quarter, from casual to upscale. And while this list could go on forever, here are our top 10 dishes and where to try them in the French Quarter.
Bananas Foster
Bananas Foster was invented in New Orleans. Its creation in 1951 is credited to Paul Blangé, a Brennan's Restaurant chef. Chef Blangé came up with sautéing the bananas in butter, sugar and cinnamon, and then adding rum and igniting the concoction. The dessert was named after Richard Foster, a friend of Owen Brennan and the chairman of the New Orleans Crime Commission.
Today, this decadent dessert remains a staple, impressively served flambéed tableside as it was intended, or in many delicious variations (as a pie, ice cream, or French toast) in some of the best restaurants in the city. The original-recipe Bananas Foster at Brennan's Restaurant (417 Royal St.) is its most-ordered item. The restaurant reportedly flames 35,000 pounds of bananas for the famous dessert.
Beignets
Those little deep-fried pockets of doughy goodness dusted with powdered sugar are one of the city's most iconic culinary treats. The beignet is honored with its own festival and is beloved unconditionally. Getting an order of beignets with a cup of café au lait at the 24/7 Café du Monde (800 Decatur St.) is one of the most classic New Orleans experiences you can have, as is getting that pesky powdered sugar all over yourself.
Crawfish Étouffée
This spicy seafood stew, made with shrimp or crawfish, is a traditional Creole/Cajun favorite (the French word étouffée, pronounced "eh-too-fey," means "smothered"). The iconic Galatoire's (209 Bourbon St.) serves a classic shrimp étouffée over rice as an entree and, like many other restaurants, also offers it as an add-on topping over fish. For a more casual dining option, head to Deanie's Seafood (841 Bienville St.).
Gumbo
One of Louisiana's most famous dishes, excellent gumbo is easy to find anywhere in New Orleans, it just depends whether you like your gumbo with darker or lighter roux, and with meat or seafood (or both). Appropriately enough, the French Quarter restaurant that includes the dish in its name is a great place to try several of its varieties. Gumbo Shop (630 St. Peter St.) serves a seafood and okra gumbo that is thick with shrimp and crabmeat, a smoky chicken and andouille sausage gumbo, and even gumbo z'herbes, a rarely-seen vegetarian gumbo made with greens. Gumbo Ya-Ya, a house specialty at Mr. B's Bistro (201 Royal St), is a Cajun country-style gumbo made with dark roux, lots of Creole spices, chicken, and Andouille sausage.
Jambalaya
This flavorful one-pot, rice-based dish is right up there with gumbo when it comes to the well-deserved international fame. This staple traditionally incorporates stock, meat, seafood, long-grain rice, and vegetables (like the "holy trinity" also used in gumbo — bell pepper, onion and celery). The main distinction is that the Creole version has tomatoes and the Cajun recipe does not. You can find one of the best versions of jambalaya at the casual Coop's Place (1109 Decatur St.). Coop's rabbit and sausage jambalaya can be upgraded to "supreme" by adding shrimp and tasso, a spicy Cajun ham smoked on premises.
If you just want a taste, the spicy jambalaya at Napoleon House (500 Chartres St.) comes with chicken and sausage and could be ordered as an appetizer or as a side. And the New Orleans Creole Cookery (508 Toulouse St.) has a vegetarian version, not something many restaurants offer.
Muffuletta
The muffuletta goes back to the 19th century, when the French Quarter was sometimes referred to as "Little Palermo," and its Sicilian working-class population consisted of laborers, dockworkers, fishermen, and farmers. "Muffuletta" (pronounced "muffuLOTta" and sometimes also spelled as "muffaletta") comes from the bread known in Sicily under that name.
The invention of this oversized sandwich is credited to Salvatore Lupo, the proprietor of Central Grocery (923 Decatur St.) in the French Quarter. The "Home of the Original Muffuletta" opened in 1906 and has been selling the sandwich for over a century. They keep it traditional: Genoa salami, Holland ham, mortadella (bologna), the secret-recipe olive salad, and Swiss and provolone cheese — served on an 8-inch round bread.
Verti Marte's (1201 Royal St.) "Mighty Muffuletta" is served either hot or cold, and the muffuletta is also one of the specialties at Napoleon House, and is big enough to share. "The home of the other muffuletta," Frank's (933 Decatur St.), just down the block from Central Grocery, offers it popular version baked and served with toasted bread and melted cheese.
Oysters Rockefeller
This New Orleans classic was created at Antoine's (713 St. Louis St.) in 1889. It's an oyster on the half shell, topped with herbs that include parsley, and baked. Antoine's still serves it, and Galatoire's version is amazing as well. The casual eatery Acme Oyster House (724 Iberville St.) offers Oysters Rockefeller soup, if you want to try a variation of this iconic New Orleans dish.
Po-Boys
A po-boy is a sandwich (just please don't call it that) that comes in as many versions as there are ingredients to stuff inside a loaf of French bread. Some of the classics are fried seafood, like oysters or shrimp, but the ingredients vary all the way up to French fries. Ask for your po-boy "dressed," so it will come with lettuce, tomato, pickles, and mayonnaise.
Johnny's Po-Boy Restaurant (511 St. Louis St.) has been dishing them out since 1950, and Killer Poboys (219 Dauphine St.) plays around with the non-traditional ingredients. Or venture to the very edge of the Quarter to the Rampart Food Store (1700 N. Rampart St.), where the fried shrimp po-boy is the stuff of culinary legend.
Pralines
This classic southern confection makes for a great edible souvenir to take home and is pretty easy to find in the French Quarter. Southern Candymakers (334 Decatur St.) makes small batches daily. You can also find fresh and delicious pralines at Loretta's location at the French Market.
Red Beans and Rice
In the past, Monday was traditionally laundry day in New Orleans, and also the day for having red beans and rice. Our laundry schedules aren't that rigid anymore, but you can still find a delicious plate of beans and rice around town, usually accompanied by a hunk of smoked sausage. While many restaurants still feature it as a Monday special, you can still find beans and rice on many menus on any day of the week. A particularly delicious version is served every day at the kid-friendly Remoulade (309 Bourbon St.), the casual-dining offshoot of the iconic Arnaud's next door.