13 Local Items to Shop for in the French Quarter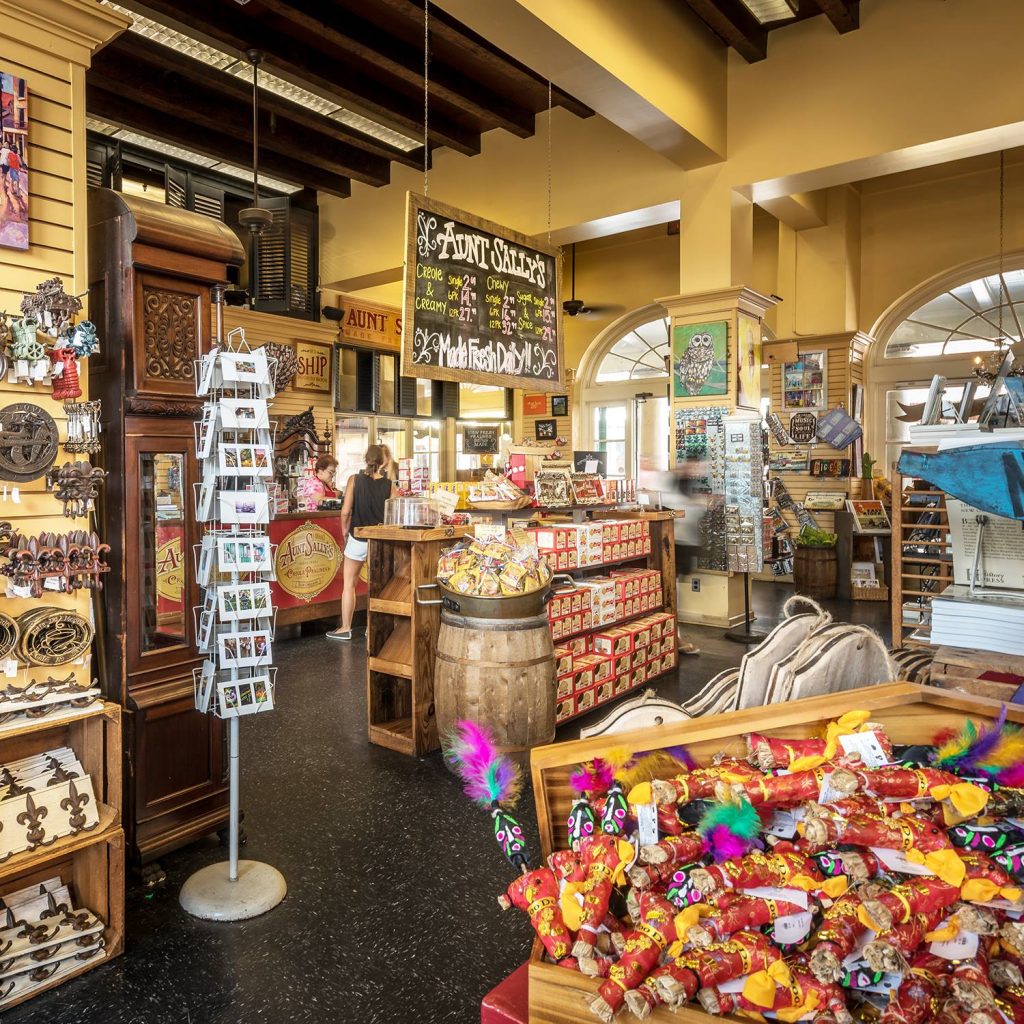 Photo courtesy of Aunt Sally's Pralines on Facebook
Now that you've taken in New Orleans' spicy blend of Creole, Cajun, French, Caribbean, and West African influences, you know there's a distinct flavor that is unique to New Orleans, and there's no other place in the world like it. Perhaps it's time to bottle some of that and take home with you. From the edible souvenirs to locally produced music and crafts, you can score these treasures near Hotel St. Marie, to savor at home or bring as gifts to your loved ones. Let's go shopping.
Beignet mix & coffee w/chicory
Where to buy: Café Du Monde, 800 Decatur St. (plus multiple locations)
You'll find many locations throughout New Orleans and the French Quarter of this iconic establishment — both the café and the gift shop outposts — but why not go to the source? That way you can get one more plate of sugar-dusted beignets with a cup of chicory-laced café au lait while you shop and people-watch.
Dog costumes
Where to buy: Chiwawa Gaga, 511 Dumaine St.
Dog lovers, this one is a treasure trove for those looking to accessorize and costume their small-breed dogs. If your dog needs a cape, a crown, or a tutu — this is a place — and don't the dogs of Barkus know it.
Local fragrance
Where to buy: Bourbon French Parfums, 805 Royal St.; Hové Perfumery, Chartres St.
Bourbon French Perfumes has been around for almost 200 years, so trust them to custom-mix a unique fragrance just for you. There are also classic bestsellers like musk or lavender, house perfumes, and a unique blend called Voodoo Love (a tribute to the vodou queen Marie Laveau). All perfumes are hand-mixed in small batches from natural ingredients. Hové is another emporium of floral perfumes, including vintage scents like vetiver. The shop also carries French milled perfumed soaps, bath salts, colognes, and other beautifully scented and packaged treats.
Local Music
Where to buy: Louisiana Music Factory, 421 Frenchmen St.
The Louisiana Music Factory is technically in Faubourg Marigny, just outside of the French Quarter, but it's an absolute must if you're shopping for local music as it stocks the best of zydeco, blues, Dixieland, Mardi Gras Indians, and everything you could possibly want when it comes to Louisiana and New Orleans music.
Louisiana hot sauce
Where to buy: The French Market, 1008 N. Peters St.
Authentic Louisiana hot sauces top many must-buy lists, and while many souvenir shops on Decatur and throughout the French Quarter have them, the French Market has the best and most varied selection, from mildly spicy to the mind-boggling mouth bombs. Although it's not a local chain, the adjacent spice-and-seasoning emporium, Pepper Palace (1 French Market Place), also represents the local flavors.
New Orleans & Louisiana books
Where to buy: Basin St. Station Gift Shop, 501 Basin St.
The gift shop is located on the first floor of Basin St. Station, which also features a staffed visitor information center, a walking tour kiosk, and free educational exhibits. The place is small but mighty, and is hard to miss as it's shaped like the iconic New Orleans streetcar. Inside, you'll find stacks of books — Creole and Cajun cookbooks, children's, history, etc. — on Louisiana and New Orleans (check out the priceless Cajun Night Before Christmas by Coleen Salley). The gift shop also stocks high-quality souvenirs like mugs and ornaments, and it's a good spot to pick up a New Orleans-centric t-shirt or a Carnival mask. Another good option is Beckham's Bookshop (228 Decatur St.), an independent, long-time bookstore located at the foot of Canal Street.
New Orleans arts & crafts
Where to buy: the French Market, The Artist's Market and Bead Shop (1228 Decatur), SecondLine Arts & Antiques (1209 Decatur St.)
These places have unique, well-priced local art and souvenirs, from high to low. SecondLine Arts is packed with antiques and funky junkyard-type salvaged pieces like ironwork, signs and windows, plus a plethora of local art — all priced to move quickly. The space multitasks as a daily outdoor art and flea market. The French Market's Shops at the Colonnade is a strip of shops also worth a visit if you're shopping for souvenirs or local specialties.
New Orleans-themed ornaments
Where to buy: Santa's Quarters, 1025 Decatur St.
To stock up on New Orleans-themed ornaments and every possible take on a fleur-de-lis, check out this Christmas-themed store on Decatur. It's open all year round! This could also be your stop if you're putting up a Carnival tree, as some locals do, or want to get your Saints or LSU on.
Olive Salad
Where to buy: Central Grocery, 923 Decatur St.
It's not just any olive salad in a jar, and those who have tasted Central Grocery's muffuletta would understand that to even try to recreate this gem of a sandwich at home you would need the Lupo's family Italian olive salad. Now, finding the right bread is another story.
Pralines
Where to buy: Aunt Sally's Original Pralines, 810 Decatur St.
A few stores throughout the Quarter sell high-quality pralines, but Aunt Sally's, right by the French Market, has been doing it (right) for a long time. Besides this traditional New Orleans treat (in classic, creamy and chewy), you can stock up on houseware, cookbooks, Creole seasonings, Steen's Cane Syrup, and other culinary souvenirs.
Vintage and retro clothing, shoes and accessories
Where to buy: Trashy Diva, multiple locations; Dollz & Dames, 216 Decatur St.; Bambi Deville's Vintage Clothing, 818 Royal St.
Although not strictly vintage, Trashy Diva's boutiques carry well-made, flattering vintage-inspired pieces in styles from the 1920s through the 1950s (sizes range from 0 to 24), plus pinup-worthy accessories, at reasonable prices. The boutique also carries covetable shoes. Dollz & Dames has a similar vibe and is a must-stop for retro styles. And Bambi Deville's is well worth a visit if you're looking for a 50s frock or some fun costume builders. The well-curated collection includes a remarkable amount of vintage leather garments and kimonos, plus sequined numbers, ball gowns, glam hats, and lingerie. The furs, delicate fascinators, 40s sundresses, and an occasional Victorian dress show-stopper are all equally well preserved and lovingly displayed.
Wigs and makeup
Where to buy: Fifi Mahony's, 934 Royal St.
It's not so much as there's a shortage of places in the French Quarter to accessorize for the Carnival and other occasions — there isn't — but Fifi is an experience. Wigs of all styles and colors adorn the walls, and you will get personal attention while you try them on. Fifi Mahony's also boasts a full-service hair salon and staff of makeup artists, and a well-stocked makeup and accessory counter. If you need costume advice, or to glitz up for any occasion, Fifi means business, and you might be rubbing elbows with the local entertainment professionals who shop there.
Zapp's potato chips
Where to buy: Widely available in stores of any size, supermarkets, drugstores, etc. In the French Quarter, try Rouses Market #30, 701 Royal St.
Once you try them, from the original to any number of flavors, some limited edition, you'd probably want to take a few bags home or on the plane with you. Zapp's come in rainbow of flavors, some spicier than others (Spicy Cajun Crawtators, Mesquite Bar-B-Que), but don't overlook the milder flavor explosions of Voodoo, and Cajun Dill Gatortator.