Live Music in the French Quarter and Nearby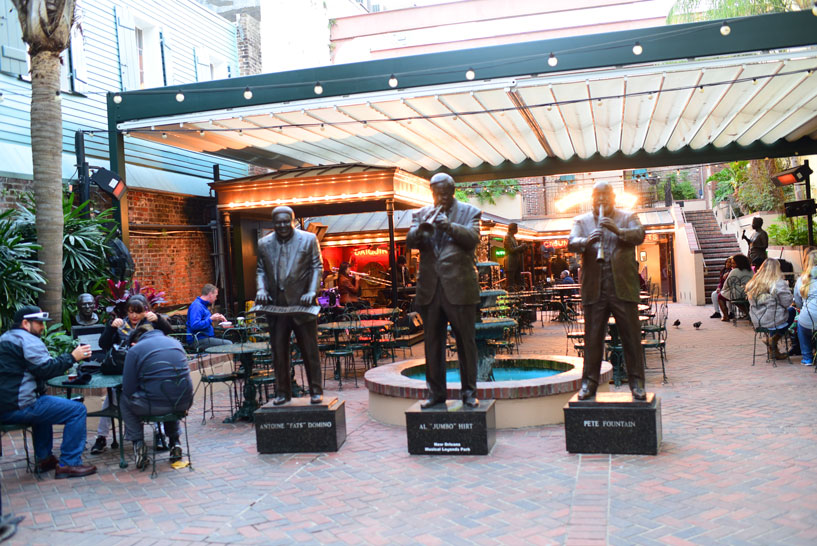 The French Quarter has music coming out of its many doors and street corners, 24/7. You can enjoy it for free by just walking around and running into street performances, have it with your brunch, dinner or happy hour, or dance till dawn at New Orleans' numerous live music venues. From Dixieland to jazz to zydeco, you can hear it all in one night, all within walking distance. Here are our picks for live music in the French Quarter and nearby.
Do you just want to walk around and see what street performances you can catch? There is non-stop action on Jackson Square, with usually a decent brass band performing right outside of the St. Louis Cathedral. The pedestrian-only part of Royal St. is also a good bet.
The neon bustle of Bourbon Street provides a 24/7 soundtrack too, from karaoke joints spilling into the street to the serious, well-respected jazz venues like Fritzel's European Jazz Pub. It's been around since 1969, and it's reflected in the memorabilia and the black-and-white photos lining the walls.
The quality of music on Bourbon Street varies, but it's guaranteed to be fun, especially with a hurricane to go from Pat O'Brien's. Stay on Bourbon is you want straight up jazz: the Jazz Playhouse has nightly shows, and so do Musical Legends Park and Maison Bourbon, an old-school jazz club with a courtyard and a big balcony. For something a little different, head to Chris Owens Club & Balcony. Chris Owens has been putting on her one-woman show for decades, and it's a hard-to-describe live revue that spans several music genres.
If you keep walking toward Esplanade Avenue, you will eventually hit Lafitte's Blacksmith Shop. It is a must-stop, period. Housed in a Creole cottage on the corner of Bourbon and St. Philip streets, it was built between 1722 and 1732, making it one of the oldest structures used as a bar in the U.S. Legends swirled for centuries that this location was used by the infamous Lafitte Brothers, Jean and Pierre, as a base for their privateer operation in Barataria. The bar has a unique ambiance and is popular with locals and visitors alike. If you're feeling brave try the signature drink called Purple Drank, a frozen daiquiri concoction.
On the other side of the Quarter, don't miss the elegant Bombay Club. It has live music nightly and the largest selection of martinis in the city. Another way to enjoy old-school elegance is to book a Sunday jazz brunch. Many places offer it, but we especially recommend the two Creole grand dames, Arnaud's and Antoine's.
Kerry Irish Pub doles out traditional Irish, alternative country, bluegrass and rock with no cover charge. The One Eyed Jack's hosts everything from touring bands to burlesque, and the heavy-hitter House of Blues is a go-to to see the headliners and nationally touring acts.
Just past Esplanade Avenue and venturing in the adjacent neighborhood of the Marigny, the unique decor and an eclectic mix of music offerings are a draw at the Dragon's Den. Nearby, the 24/7 Buffa's serves up excellent burgers and fried chicken along with the often-intimate performances by the local musicians. As you head a little further into the neighborhood you'll end up on Frenchmen Street, which is peppered with clubs and restaurants featuring live music, plus a fair amount of street performances. There, you can easily lose yourself in the magic and dance until dawn.