Sightseeing, History and Specialty Tours Near Hotel St. Marie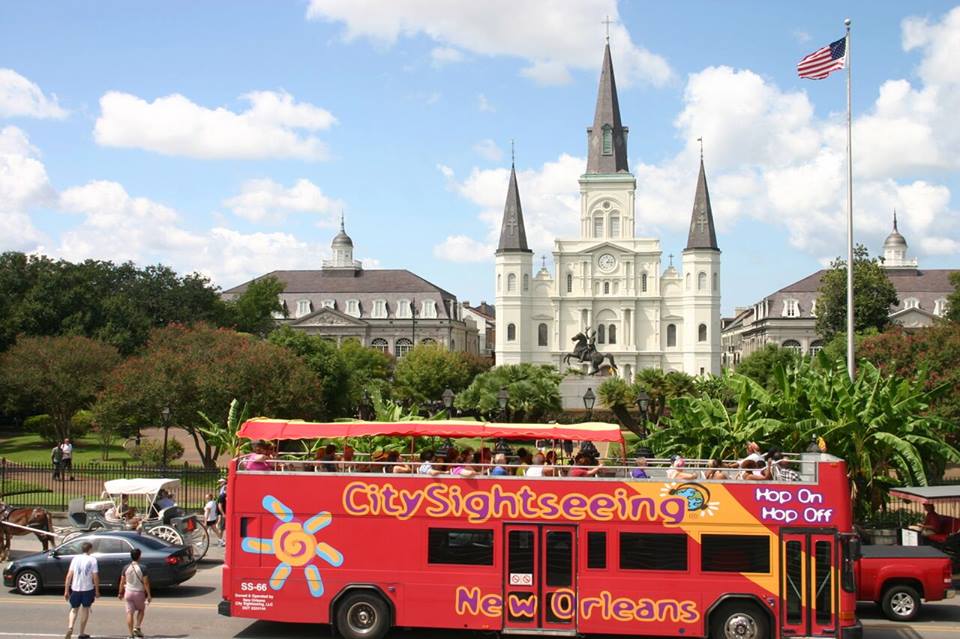 Depending on your stamina and how much ground you'd like to cover in the span of a few hours, you can explore the French Quarter and the nearby Treme and Marigny on foot and bike. Walk the cemeteries at dawn, bike along the Mississippi River, sample gumbo from the city's best restaurants, or go ghost hunting. Here are six recommended tours of the French Quarter and nearby areas.
1. CitySightseeing Tours
Basin Street Station, 504 Basin Street
The company's tour includes unlimited Hop-On Hop-Off sightseeing for up to 3 days, plus 2 Free walking tours – all for $49. Walking tours include the French Quarter, Garden District, and Lafayette Cemetery #1. Tour buses operate from 9:30 am to 5:30 pm, 7-Days a week. The first ride at each of their 18 stops begins between 9:30 am and 10:00 am. For a full loop of the entire tour, guests should board by 3:30 pm.
2. Haunted History Tours
Rev. Zombie's Voodoo Shop, 723 St. Peter Street
Haunted History Tours is another popular local history tour provider. It runs ghost, vampire, cemetery, and voodoo tours in the French Quarter and the Garden District. One of the specialty tours is a five-for-one crowd pleaser that combines the elements of Ghost, Vampire, Witches, Voodoo, and Unexplained Mysteries tours. This two-hour walking tour is offered twice daily ($25 adults; discounts for students, children ages 6-11, and the military).
3. New Orleans Music & Heritage Tour
Louisiana Music Factory, 421 Frenchmen Street
This unique musical history walking tour will take you to the former homes and haunts of local legends including Danny Parker, Louis Armstrong, and James Booker. Learn about 300 years of New Orleans' musical history as you stroll through the vibrant neighborhoods of Treme, Marigny, and the French Quarter, listening to clips of New Orleans blues, jazz, and brass bands along the way on Bluetooth speakers.
This two-hour tour ($25) is designed and narrated by Keith Abel, a music industry veteran who has worked for various record labels. The tour starts at the Louisiana Music Factory on Frenchmen St. and winds through the French Quarter, visiting J&M Studios in Treme, with stops in Armstrong Park, Congo Square, Preservation Hall, and Jackson Square.
4. New Orleans Culinary History Tours
Pickup locations vary (contact the company for details)
New Orleans Culinary History Tours is a member of the New Orleans Convention and Visitors Bureau. It offers combination culinary and history tours that provide historical and cultural background as well as a taste of the local cuisine.
The French Quarter Tasting Tour ($55, three hours) visits several historic restaurants including the legendary Antoine's and Tujague's, and includes a roux cooking demo by a Creole chef. You'll get to sample seafood gumbo, turtle soup, Shrimp Arnaud, and other delicious local offerings, like the muffaletta.
The New Orleans' Classic Drinks Tour ($60, two hours) will take you to several historic French Quarter restaurants and bars, to learn about the city's unique drinking culture and to sample such classic cocktails as absinthe and Sazerac, plus the locally brewed Abita beer.
The third offering ($84, 6-7 hours) digs even deeper into Louisiana cooking and its various historical influences. The tour starts with a cooking demonstration at the New Orleans School of Cooking, followed by lunch, and also includes a culinary tour of the French Quarter.
5. French QuarTour Kids
Pickup locations vary (contact the company for details)
While some tours are decidedly not for little ears because they focus on the spooky lore and true-crime stories, QuartTour Kids caters specifically to kids ages 4 to 18. Jill Dresser, tour guide and owner, offers four 1-1.5 hour-long walking tours ($20) of approximately six blocks of the French Quarter.
Tiny Tours target kids ages 4-7 and involve dress-up and a treasure hunt with a map. Creole Kids tour (ages 7-12) takes the little historians to the riverfront and through the streets of the Quarter discussing the 19th century life in New Orleans. The Spooky Tour (ages 5-10) is a child-friendly version of the ghost tour.
Finally, the slightly longer Teen Tour (ages 13-18) explores New Orleans history through the eyes of a teenager and discusses the history of French Creoles, Creoles of color, and the military and trade past of New Orleans.
6. Crescent City Bike Tours
626 N. Rampart Street
These bike tours ($49, 2.5-3 hours) focus on New Orleans history from the 17th century to today. The River Tour takes you from Congo Square to the riverfront and across the river to the scenic old neighborhood of Algiers Point (the ferry fee is included in the price of the tour). The Bayou Tour starts in Louis Armstrong Park and travels trough the historic neighborhood of the Treme to Bayou St. John in Mid-City, with a stop St. Louis Cemetery #3. It ends in City Park, home of centuries-old live oak trees. If you prefer to explore on your own, you can rent a bike for half a day and up to two days at a time ($25-$60; maps, helmet and bike lock included).
Need a break from the history lessons and all the walking? Stop by Hotel St. Marie on Toulouse St., just off Bourbon, to relax in the lush courtyard with a specialty cocktail from the hotel's bar, or get a bite to eat at the cafe located on the first floor. Need something more substantial? Chef Jarred Zeringue's menu at Vacherie is full of authentic Cajun fare like BBQ shrimp and seafood gumbo.