Spring in New Orleans: Highlights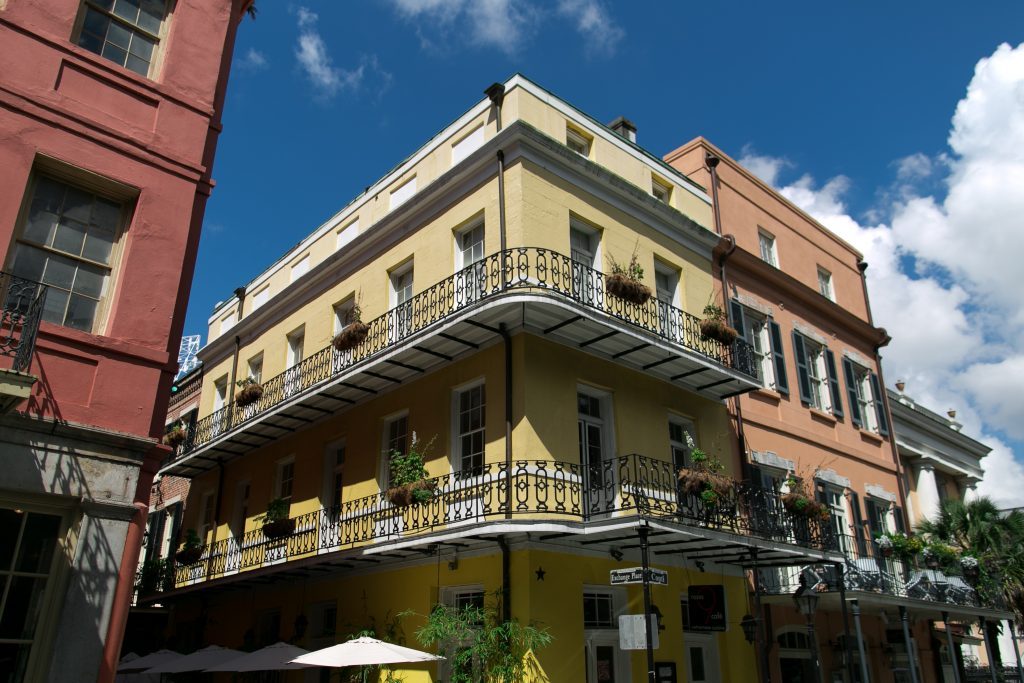 Photo by Trevor Mark
Spring is peak festival season in New Orleans, when there's so much going on it's tough to choose what to do. Our best advice? Wherever you go, there you are. Some of the city's most magical moments are spontaneous celebrations you never would have encountered if you stuck to your agenda.
That said, there are some don't-miss events that should be on everyone's to-do list, even if you happen to get sidetracked by something else along the way.
MARCH
Depending on when Easter falls, Mardi Gras day can occasionally extend into March. But even when it doesn't, locals have barely recovered from Carnival when St. Patrick's Day rolls around, which is marked by several raucous parades.
The great-granddaddy of them all? The Irish Channel Parade takes over Magazine Street with floats full of revelers tossing shamrock beads and heads of cabbage, followed by kilted whiskey-tippling marchers who stagger along behind them trading paper carnations for kisses. There's also a Downtown Irish Parade that launches in Bywater, and a Molly's at the Market throwdown in the Quarter. Parade dates and routes vary from year to year, but you can get the lowdown on them all at New Orleans St. Patrick's Day Parade.
On the heels of St. Patrick's comes St. Joseph's Day (March 19), when many local Catholic churches and private homes build elaborate altars laden with food to honor St. Joseph, and pass out lucky beans to people seeking his blessing. Come nightfall on St. Joseph's, Mardi Gras Indians hit the backstreets in spectacular hand-beaded suits and feathers to play hide-and-seek with locals and visitors eager to catch a glimpse of Indians in the wild.
Another chance to see the Mardi Gras Indians is at Super Sunday, the annual gathering held around St. Joseph's Day. Super Sunday typically falls on the third Sunday of March, but is subject to a date chance should the weather not cooperate. You can catch the gathering and the procession either at the A.L. Davis Park, at the corner of Washington and LaSalle streets; or in Bayou St. John in Mid-City, at the intersection of Orleans and Moss streets, on the bayou's banks and the Orleans Street bridge.
Next up is the annual New Orleans Wine & Food Experience (NOWFE), an extended weekend of culinary delights interlaced but wine-centric experiences. Offerings include package rates, activities, and dinners at nearly every price point.
The ever popular Top Taco NOLA is another culinary extravaganza you won't want to miss. This fun fest is held at the Woldenberg Park by the river and features unlimited gourmet tacos and signature cocktails from some of the top chefs and mixologists in New Orleans. Dozens of restaurants and spirit and beverage companies will be competing in several categories, including Top Creative Taco, Top Traditional Taco, Top Creative Cocktail, and Top Traditional Margarita.
If an underground warehouse party is your vibe, then the BUKU Music + Art Project is for you. Four stages of electronica, EDM, hip-hop, and indie music, plus art installations take over Blaine Kern's Mardi Gras World along the Mississippi Riverfront every March. Although BUKU is for all ages, the fest does seem to attract a younger crowd.
Then there are the spring literary festivals. The New Orleans Book Festival is making its debut in 2020. Held at Tulane University, it features, panel discussions, keynote speeches, and more.
March goes out like a lion with a cacophony of ear-blasting yells of "STELLA!!!" and "STANLEY!!!" during the Stella & Stanley Shouting Contest that marks the end of the annual five-day Tennessee Williams Literary Festival. The fest is filled with conferences, round tables, signings, walking tours, and features a book fair. Also this month, the city hosts the Saints & Sinners Literary Festival that celebrates LGBTQ authors.
March closes with two more festivals. Hogs for the Cause at the UNO Lakefront Arena is an annual celebration of hog roasts and local music, to bring awareness to pediatric brain cancer. The Louisiana Cajun-Zydeco Festival, held at the Armstrong Park, celebrates Cajun and Zydeco music with a stellar lineup of Louisiana acts and local food.
Starting in March, you can also catch Wednesday at the Square, a free concert music series held every spring in Lafayette Square in the CBD. From March through May, these outdoor concerts feature a variety of jazz, rock, swam pop, brass, Latin rhythms, and more. Dogs and kids are welcome.
APRIL
Festival season kicks into high gear in April, when live music takes center stage throughout the entire month. Freret Street Festival jumpstarts the action the first Saturday of April with three music stages and dozens of food, drink and craft vendors.
Whenever it falls, Easter brings its own triumvirate of parades. The Historic French Quarter Easter Parade rolls in mule-drawn carriages and convertibles to attend 11 a.m. mass at St. Louis Cathedral. Then Bourbon St. legend Chris Owens leads her own parade through the Quarter. The third parade of Easter Sunday, also in the French Quarter, is the Gay Easter Parade, a long-standing tradition of the New Orleans LGBTQ community and great fun to witness.
French Quarter Festival, a free music extravaganza that takes over the entire Quarter in April with 20+ stages of local music from traditional jazz to zydeco, has become the city's biggest magnet for out-of-town visitors. Music stages are placed throughout the French Quarter, and you are never far away from the action when you stay at Hotel St. Marie.
After the French Quarter Festival comes the city's other premiere music event, the annual New Orleans Jazz & Heritage Festival. Jazz Fest celebrated its 50th birthday in 2019 and remains a mecca for music lovers from around the world. Held at the New Orleans Fair Grounds for two consecutive four-day weekends at the end of April and beginning of May, Jazz Fest features national headliners along with a bounty of local New Orleans and Louisiana musicians.
While the epicenter is at the Fair Grounds, Fest-related live shows abound at clubs throughout the city and spill into the streets almost anywhere you go. To get to the fest from Hotel St. Marie, hop on a bike or bus, or take a cab, Uber or Lyft to the Fair Grounds, located in Mid-City. If you're up for it you may even consider walking (it's a little over two miles from the hotel, and under an hour).
MAY
The days may get hotter in May, but the good times just keep rolling. Held in mid-May, along the lovely banks of the Bayou St. John in Mid-City, Bayou Boogaloo gets bigger every year. It now draws dozens of homemade flotillas of festers, who float along the bayou while music wafts across the water from several stages.
Later in May, further up the Bayou, New Orleans' large Greek community celebrates its heritage at the annual Greek Fest. Held on the grounds of the beautifully ornate Greek Orthodox Cathedral, the lively festival is a feast for the eyes and ears. The aroma of fresh spring lambs turning on spits over open air grills whet the appetite as festers uncork bottles of retsina on the banks of the bayou or join joyful circles of Greek dancers under the setting sun. Opa!
Want to slurp and savor everything oyster? The two-day, free Oyster Festival features live music, arts and crafts, and oyster shucking and eating competitions along with cooking demos and a Largest Oyster Contest.
JUNE
Since spring officially extends into some of June, we'd like to mention three festivals happening that month that still fall under the spring-festival category: the New Orleans Pride (don't miss the parade); the French Market Creole Tomato Festival; and The NOLA Caribbean Festival.
Traditionally held on the second weekend of June, the French Market Creole Tomato Festival welcomes the arrival of Creole tomato, beloved in Louisiana. Prepare to sample an extensive menu of Creole tomato incorporated into crepes, crawfish pies, even gelato. The fest also features live music, a second line, a tomato-eating contest, and the Bloody Mary market in Dutch Alley, with many variations of the signature cocktail competing for "Best of the Fest" awards in such categories as Most Creative Bloody Mary and Best Bloody Mary Garnish.
The NOLA Caribbean Festival is held over two weekends in June, at the end of Caribbean Heritage Month, celebrating with parades, parties, and food events at the venues ranging from Central City BBQ and Congo Square to local clubs and hotels.
Planning on visiting this spring? The historic Hotel St. Marie invites you to plan your French Quarter escape. Take advantage of our discounted weekday rates and special offers, and receive even deeper discounts when you prepay in advance. If you find lower rates on your Hotel St. Marie room at the time of booking we will match that rate.
Check availability for your travel dates and book your stay online. If you prefer to speak with one of our reservation agents, please give us a call at (800) 366-2743. Happy spring!