Top 10 Breakfast Places Near Hotel St. Marie in the French Quarter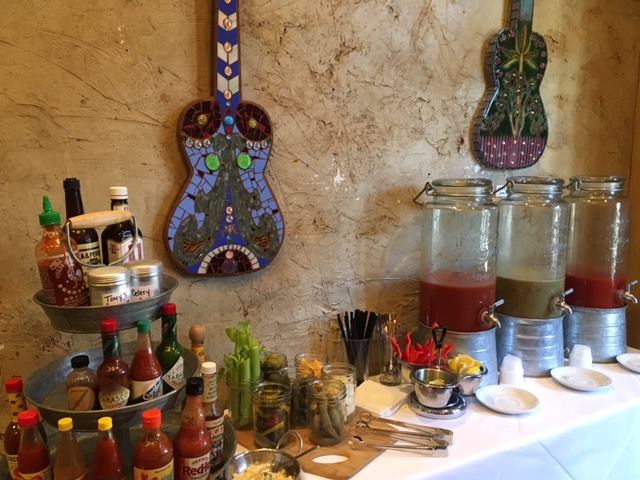 Photo via Vacherie Restaurant on Facebook
Are you the kind of person who has no problem tucking into the boudin-stuffed, Bechamel-smothered comfort food with Cajun/Creole flair before 10 a.m.? Or are you perhaps seeking a lighter alternative with a French flavor, like a savory crepe? How about house-made muesli or gluten-free creme brulee? From grabbing a quick croissant and a cafe au lait to a hearty shrimp-and-grits sit down to a decadent, leisurely brunch of the bottomless Mimosas kind — New Orleans has got you covered — all before noon, seven days a week, and within a stretch of just 13 blocks, from Canal Street to Esplanade Avenue.
Here are our top 10 recommendations for breakfast and brunch in the French Quarter.
1. Vacherie (827 Toulouse Street)
Vacherie Restaurant & Bar is located inside Hotel St. Marie. Named after the small town of Vacherie, Louisiana, where chef Jarred Zeringue grew up, it focuses on homestyle, inventive Cajun and regional Louisiana fare like crawfish frittata and eggs Boudin Benedict with Creole hollandaise and grits. Local Andouille sausage and fried green tomatoes are well represented on the breakfast menu, which is served daily starting at 7 a.m. There's also Saturday and Sunday brunch till 2 p.m. Make your own Bloody Mary or Bloody Rita (with tequila instead of vodka) from the DYI Bloody Mary bar that has all the fixings, including house-made pickled okra and pickled jalapeno.
2. Cafe Conti (830 Conti Street)
Cafe Conti is brought to you by the team behind Vacherie, EAT New Orleans, Cafe at the Square, and Between the Bread coffee bar. Expect the same carefully and inventively executed southern comfort food but with a focus on the lighter side of French/Creole fare: omelets, savory and sweet crepes, shrimp and grits, and Croque Madame. Need something rich and decadent? Try the crab and Brie crepe with roasted garlic Bechamel, or a peaches and creme crepe if you crave something sweet. Cafe Conti is located inside the Prince Conti Hotel.
3. Cafe Soule (720 St. Louis Street)
Cafe Soule shares the four-story, 24-room renovated mansion with Paris Room, a private-party venue. The stunning building features a balcony, ballroom, outdoor and garden terrace, and spiral staircase. It was built in 1830 by Pierre Soule, a French lawyer who later became a U.S. senator (hence the restaurant's name). Cafe Soule's menu is a nod to the New Orleans and French fusion cuisine, featuring quiche, crepes, beignets, Bananas Foster waffles, and pain perdu (French toast, made with New Orleans French bread). The extensive poached-egg selection is as inventive as it is irresistible: besides the more common Eggs Benedicte and Eggs Sardou there are Eggs Lafitte (served on buttermilk biscuit with crawfish Hollandaise sauce) and Eggs Soule (with crab cakes). You can add fried green tomatoes to any eggs selection. The signature breakfast cocktail is champagne with St. Germaine. Gluten-free menu is also available.
4. Stanley (547 St. Ann Street)
Stanley has a lot going for it: The airy, sunny, inviting dining rooms; prime location (it overlooks Jackson Square); a nod to Tennessee Williams in its name; and an all-day breakfast that emphasizes regional cooking and local ingredients. Owner and chef Scott Boswell (who was also behind the popular, now-closed Stella! restaurant) serves classic New Orleans comfort food with an upscale twist. Even so, it's affordable and the portions are very generous. Try Eggs Stanley: cornmeal-crusted oysters, poached eggs, Canadian bacon and Creole hollandaise on a toasted English muffin; or Eggs Stella: same except with a soft-shell crab instead of oysters. Eggs Benedict get a po-boy treatment by being served on toasted French bread. Or, if you can handle it, get them as part of a breakfast seafood platter, with soft-shell crab, oysters and shrimp. Wash it down with a Mega (double) Bloody Mary or a milkshake punch while you people-watch.
5. The Original Pierre Maspero's (440 Chartres Street)
The Original Pierre Maspero's has been in the French Quarter since 1788, serving up casual Cajun fare with consistency and old-world charm. You know the food is authentic when you see the locals at nearby tables diving into their etouffee or gumbo. The place is unbeatable for people watching, too: the restaurant's big windows open right onto the corner of St. Louis and Chartres streets. Breakfast is served daily from 8 a.m. till noon and features southern favorites like biscuits and gravy and inventive omelets with seafood, Andouille sausage, and Cajun twists like Tabasco Hollandaise sauce.
6. Cafe Fleur De Lis (307 Chartres Street)
If you want a quick, no-frills breakfast to start your day, Cafe Fleur de Lis will deliver, with fast service and a southern twist. This smallish, narrow cafe located between Conti and St. Louis streets gives off the kind of neighborhood vibe that's not always easy to find in the French Quarter. It helps that the portions are heaping and the coffee is good. Start your day with a Creole country breakfast platter (grilled Boudin, eggs, homemade biscuit, and a bowl of grits) or one of the overstuffed omelets. The traditional New Orleans Eggs Benedict come with oysters and creamed spinach. There's also a full espresso and coffee bar. This being New Orleans, the Bloody Mary options include bacon, shrimp or crawfish.
7. The Ruby Slipper Cafe (1005 Canal Street)
This award-winning, family-owned mini-chain has locations in Orange Beach, Alabama; Pensacola, Florida; and four in New Orleans, with people lining out the door at all of them. The Ruby Slipper has been consistently winning the title of best breakfast and brunch spot on the local dining scene and in reader polls. What's the secret? Fresh, upscale ingredients you wouldn't necessarily expect from a breakfast place, and surprising twists on local flavors for starters. Eggs Cochon, for instance, features slow-cooked, apple-braised pork debris. The corned beef hash and hot-smoked salmon for signature omelets and various eggs Benedict options are made in-house. The acclaimed house specialty, BBQ shrimp and grits, uses stone-ground grits. The kids' menu and the menu that offer lighter versions of the signature items (Skinny Migas, Skinny Florentine) also help the Ruby Slipper's popularity.
8. Jimmy J's Cafe (115 Chartres Street)
This little cafe, with a colorful sign and its walls laden with funky art, has an unmistakable New Orleans feel. It's located between Canal and Iberville on Chartres and offers breakfast all day and until 11 p.m. Jimmy J's also has kids' menu and take-out and delivery options. The breakfast menu offers omelets, breakfast sandwiches and burritos. Signature options include cochon eggs Benedict, eggs Tuscan (poached, served with creamy polenta, spicy greens and ratatouille), and eggs Lafitte (Andouille-crusted grit cakes and ratatouille).
9. Croissant D'Or (617 Ursulines Avenue)
Tucked away between Royal and Chartres on Ursulines and steeped in old-world charm, this Parisian-style patisserie has some of the best baked goods in town, and the bar is high in New Orleans. Made daily and served fresh from the bakery, Croissant D'Or's croissants come plain, sweet and savory, stuffed with things like chocolate and ham and cheese. Everything you'll find displayed in the gleaming glass case is to die for: the Napoleon, tiramisu, quiche Lorraine, apple strudel, chocolate rum balls, the tarts and the tortes. Some of the delicious made-to-order sandwiches come with house-made Bechamel sauce.
By booking direct on our website, you'll get the guaranteed best price online.