Visit the French Quarter: Hotel St. Marie's Travel Guide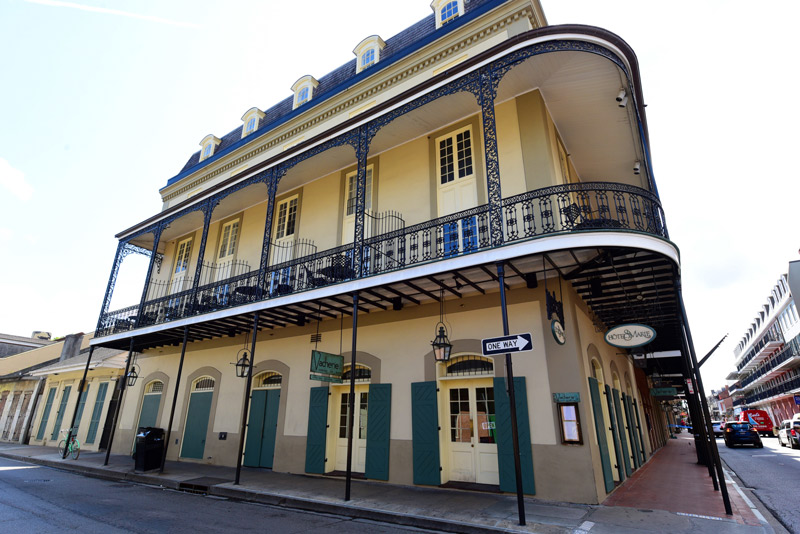 Hotel St. Marie features modern amenities combined with a classic French Quarter atmosphere. Many of our elegant guest rooms feature balconies overlooking the exciting streets of the New Orleans French Quarter or our serene tropical courtyard and saltwater pool. The French Quarter is one of the most exciting neighborhood in the country, if not the world, with attractions like Bourbon Street, Jackson Square, and the French Market. There are so many fun things to do in the Quarter. Here are our top recommendations on where to eat, drink and shops, which sights to see, how to get around, and which room to choose at the Hotel St. Marie.
Choosing the perfect room at Hotel St. Marie
---
We have eight room types at Hotel St. Marie, with either one king or two queen beds. Solo travelers, couples, and besties who don't mind sharing a bed might find one king bed suitable. The two queen beds are ideal for families and friends sharing a room. You might love our deluxe room, with its great value and elegant antique reproduction furnishings. Our courtyard room provides a lovely view of our lush tropical courtyard; and the streetside balcony room features a balcony overlooking the French Quarter (great for people-watching!). Both the suite and the junior suite would be perfect for guest looking for a little more space, and both feature an elegant sitting area.
Getting around
---
When you're staying in the French Quarter, you'll pretty much be able to walk to all of your destinations. With all its architectural wonders and magic, this over-300-year-old neighborhood is simply best taken in while explored on foot. Depending on your stamina and how much ground you'd like to cover in the span of a few hours, the next best thing would be to bike or hail a pedicab.
Walk the cemeteries at dawn, bike along the Mississippi River, sample gumbo from the city's best restaurants, or go ghost hunting. Anything you want to do, there's a probably a specialty tour for that.
Another option is the Hop-On Hop-Off bus tours by City Sightseeing. They are a great way to cover large swaths of the Quarter, Garden District and CBD. These open-top double-decker buses run every 30 minutes on a two-hour loop, and you can get off at any designated stop and then get back on a different bus anytime. The unlimited one-day pass is $39 for adults and $10 for kids under 12. The best deal is unlimited three-day pass for $49, because it includes two guided walking tours of the French Quarter and the Garden District.
For more transportation options within the French Quarter and the nearby neighborhoods, check out our guide to Getting Around the French Quarter.
Ever wondered what's located on Toulouse Street? Hotel St. Marie, for one, but also quite a few restaurants, boutiques, galleries, and bars. You'll notice no less than six art galleries and stores clustered close to where it intersects with Royal Street, and six bars and clubs pepper the intersection of Bourbon and Toulouse alone. "Walk" with us the seven blocks of Toulouse Street, from the river to the end of the French Quarter marked by N. Rampart, and see what can be found, plus learn the history of the street and how it got its name, in our comprehensive Guide to Toulouse Street.
Where to eat and drink
---
Most people have a culinary bucket list when they visit, so if yours includes the dishes that define New Orleans, the French Quarter is a great places to try them. Grab some beignets at Cafe du Monde or Bananas Foster at Brennan's, hit the Gumbo Shop or Mr. B's Bistro for their excellent gumbo, or try the heavenly rabbit and sausage jambalaya at Coop's Place.
Same goes for breakfast, regardless whether you want something health-conscious and light or a full-on Southern feast with all the fixings. From Vacherie Restaurant & Bar, located inside of our boutique hotel, with its homestyle, inventive Cajun and regional Louisiana fare like crawfish frittata and eggs Boudin Benedict to the award-winning, family-owned mini-chain the Ruby Slipper (and its acclaimed house specialty, BBQ shrimp and grits), the Quarter is brimming with great breakfast and brunch options.
Visiting during the hot months? Late spring and early summer are the perfect time for a stroll in the French Quarter and a stop for a refreshing gelato or a snoball. There's no arguing that this local concoction of shaved ice and cane sugar syrup is delicious, and we won't steer you wrong with our recommendations for the best snoball stands and ice-cream shops in the French Quarter and nearby either.
It's a little-known fact that in addition to being the birthplace of jazz and gumbo, New Orleans is also the birthplace of the cocktail. America's very first cocktail, The Sazerac, was invented right here by Antoine Peychaud in 1838. Since then, there have been countless iterations and variations on mixed drinks, from elegant and understated versions (the French 75) to over-the-top concoctions you'll find on Bourbon Street (Shark Attack, complete with toy shark and grenadine "blood," anyone?).
But a few spots near Hotel St. Marie in the Vieux Carré have elevated the art of mixology to new heights. The Bombay Club, with its largest selection of martinis in town, the rum-centric gastropub Cane & Table, and the candle-lit Lafitte's Blacksmith Shop, housed in a Creole cottage built in 1722, are just a few among the essential French Quarter cocktail spots to sample. Quite a few of them also take it up a notch in terms of the quality of the ingredients and the inventiveness when it comes to the happy hour — and who can resist the lure of trying the best cocktails this city has to offer at a nice discount?
What to do
---
Yes, New Orleans (and the French Quarter in particular) is known more for its food, music and festivals rather than its museums but the city offers quite a few amazing educational and entertainment institutions that should make your bucket list. Several of those are located in the French Quarter, a short and easy walk away from the hotel, and a testament to New Orleans' colorful past. Those museums, along with a slew of prominent historic buildings along with other landmarks, like Jackson Square and the Old Ursuline Convent, are a must-stop for every history buff.
Whether you're here on business, a girls trip, as a couple on a romantic getaway, or with your whole family and kids in tow, the French Quarter can offer a perfect day on any budget, all year round (even in the summer heat!), rain or shine. From live music, pretty much coming out of every doors and street corner, 24/7, to the only-in-New-Orleans experiences like glimpsing your future (or past lives) by consulting with a small army of fortune tellers, astrologers and diviners who ply their trade on the cobblestoned streets near the Hotel St. Marie, the city delivers non-stop excitement.
Where to shop
---
Bottle some of New Orleans' distinct blend of Creole, Cajun, French, Caribbean, and West African flavors and take it home with you. You can easily score some edible souvenirs like Louisiana hot sauce and pralines and locally produced art, music and crafts near Hotel St. Marie, to take home to savor yourself or bring as gifts to your loved ones.
Also, if you forgot to pack something you need for travel, or want to get some snacks for your hotel room — no worries. It's a breeze to shop for the essentials within walking distance from the hotel.
The French Quarter is a haven for collectors and window shoppers alike. It's chock full of antique and vintage stores, many of which are clustered on Royal and Chartres streets, and housed in historic buildings that date back a few centuries. Whether you're after a $20 tchotchke, a vintage costume, or a $150,000 chandelier, you'll find it in the French Quarter, within walking distance.
The best time of the year to visit
---
New Orleans celebrates life all year round, but many would argue that the fall and winter are especially lovely here, with their mild temps and packed calendars.
From Southern Decadence to Halloween to the festivals that honor pretty much every type of food found in Louisiana (and some drinks too), fall in New Orleans means a full calendar of festivities, not to mention the perfect weather come October.
Winter holidays are a magical time anywhere. But New Orleans has its own unique traditions you won't find anywhere else, like caroling in Jackson Square, and Christmas Eve Bonfires along the Mississippi that help guide Papa Noel's sleigh.
The best part? While the rest of the country gets back to business in January, New Orleans keeps going long after the fleur-de-lis drops from the Jax Brewery on New Year's Eve. Twelfth Night on January 6 kicks off the weeks-long Mardi Gras season with festive king cakes and the very first Carnival parades. The party is just beginning!
Whenever you end up visiting, take advantage of our hotel specials, group rates and best-rate guarantee. Reserve your perfect room today!