Winter in New Orleans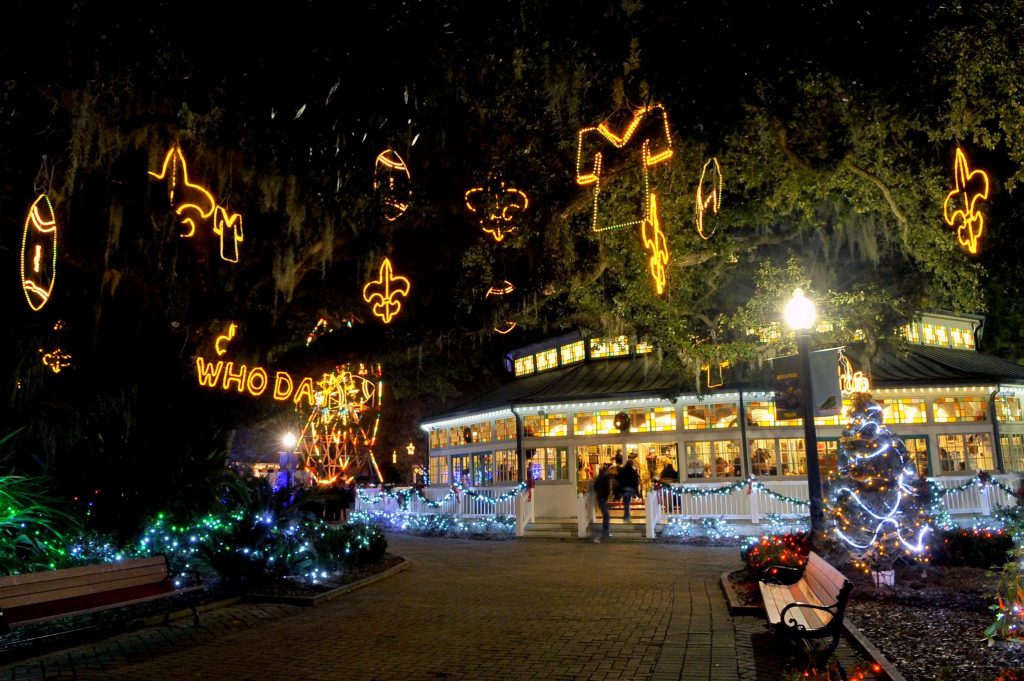 Photo courtesy of Celebration in the Oaks at New Orleans City Park on Facebook
The holidays are a magical time anywhere. But New Orleans has its own unique traditions you won't find anywhere else, like caroling in Jackson Square, and Christmas Eve Bonfires along the Mississippi that help guide Papa Noel's sleigh. The best part? While the rest of the country gets back to business in January, New Orleans keeps the party going long after the fleur-de-lis drops from the Jax Brewery on New Year's Eve. Twelfth Night on January 6 kicks off the weeks-long Mardi Gras season with festive king cakes and the very first Carnival parades.
Holiday Light Displays
A beloved New Orleans tradition, the month-long Celebration in the Oaks sets City Park aglow with more than a million twinkling lights scattered throughout 25 acres. Smaller in scale but no less spectacular, LUNA Fête in Lafayette Square illuminates Gallier Hall with artist-created projections, while Miracle on Fulton Street turns downtown New Orleans into a winter wonderland, complete with an hourly "snow" storm.
Holiday Parades
Three parades in early December kick off the holiday season. Krampus, a hairy, scary beast who travels with St. Nicholas in Europe, takes to the streets of Bywater with bells and switches for the Krewe of Krampus NOLAuf parade. The family-friendly Krewe Of Jingle rolls down Canal Street with seasonal floats and brass bands. And for silliness run amok, join the Running of the Santas and drink your way from the South Pole to the North Pole in full Santa drag.
Reveillon Dinners
Reveillon, derived from a French word meaning "awakening," was originally served in fine Creole homes after midnight mass on Christmas Eve. It's since evolved into elaborate multi-course prix-fixe dinners at top-tier New Orleans restaurants. If you're staying at Hotel St. Marie, you don't have to venture far to enjoy one of the best feasts in town. The hotel's charming restaurant Vacherie offers 4-course Reveillons throughout December, capped by a sumptuous Christmas Eve Reveillon Dinner Buffet on December 24.
Twelfth Night Carnival Parades (January 6)
Krewe of Joan of Arc, one of the loveliest parades of Carnival season, winds its way through the French Quarter on foot and horseback to honor the birthday of St. Joan. Phunny Phorty Phellows herald the arrival of Carnival with a raucous ride of costumed revelers on the St. Charles streetcar. Also on wheels that night: the city's newest krewe, Société Des Champs Elysée, which rides the new downtown streetcar line from Canal and Rampart to Elysian Fields.