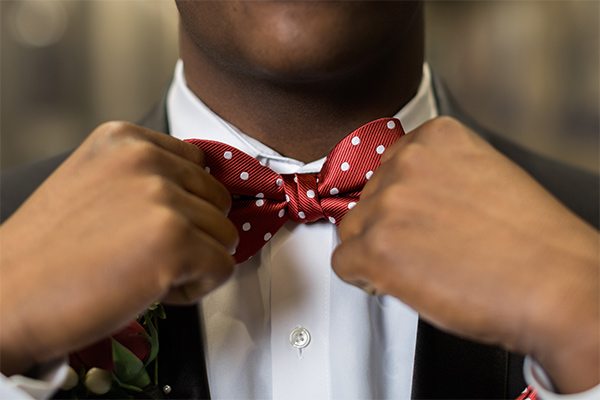 Chart a more leisurely course in and around the Quarter, where you'll discover world-class menswear shops unique to New Orleans, along with trendy hotspots for t-shirts and sneakers. The best part? There are plenty of watering holes along the way.
Rubensteins (Canal St., corner of St. Charles)
Founded in 1924, this classic old school haberdashery was the first retail store on Canal St. to open after Katrina, less than two months later. Talk about staying power! Repeatedly cited as a gold standard store by Esquire magazine, Rubensteins is known for its outstanding made-to-measure service, which tailors suits and shirts to your exact build. It also stocks a fine selection of off-the-rack designer suits, sportcoats, shirts, sportswear, shoes and accessories. Pro tip: Keep an eye out for sales events, when they serve up cocktails on the house.
Meyer the Hatter (120 St. Charles Ave., just off Canal St.)
Nothing puts a spring in a man's step like a snappy Panama or fedora. Just down the block from Rubensteins is the largest and most renowned hat store in the South. Family-owned since 1894, Meyer the Hatter stocks everything from bowlers, top hats and safari hats to newsboy caps, and boasts an extensive collection of fine Panama straws. A splurge here won't break the bank, either. Frequent sales abound, and everyday prices range from $20 to $100 for most styles, while top-tier toppers like the Stetson Aficionado Panama ($125) are under $200.
George Bass (201 St. Charles Ave.)
Known for its carefully curated collection of fine menswear from Italian labels like Santoria, Ferragamo and Luciano Barbera, George Bass is a relative newcomer to the Canal St./St. Charles corridor. First opened in 1985, it caters to guys who dress with continental flair but like to relax on the weekends in rugged Raleigh Denim stitched and signed by jeansmiths in Raleigh, NC. You'll also find a small but choice selection of personal grooming products, including Aesop hydrating skin toners and Art of Shaving straight and safety razors.
NOLA Couture (528 St. Peter St.)
Born in the wake of Katrina, NOLA Couture created a witty collection of men's bow-ties and ties with iconic local symbols like Shrimp Cocktail, Fleur de Lis and NOLAgators. It's since expanded to include ready-to-wear styles for women, kids and pets. But unique ties are still its primary stock and trade and make terrific souvenirs to wow 'em back home.
Dirty Coast (713 Royal St.)
You can stock up on t-shirts with hokey slogans like "Drunk #1" in any Quarter tourist shop. But guys with a more refined sense of humor head for Dirty Coast. Launched the year before Katrina, the brand made its mark post-K with a pithy tagline: "Be a New Orleanian wherever you are." Buttery soft cotton Dirty Coast tees are emblazoned with clever slogans like "New Orleans Is My Favorite Restaurant." One of our faves offers a crash course in local directionals: "River. Lake. Uptown. Downtown."
Sneaker Politics (216 Chartres St.)
The streetwise sneaks at Sneaker Politics are the coolest kicks in town. When the Lafayette, LA-based store opened its French Quarter outpost across from House of Blues, a long line of fans waited in the rain to get first dibs on the latest releases from Nike, Converse, and Vans. Their patience was rewarded when New Orleans-born rapper Curren$y showed up and started pouring free champagne. How cool is that?