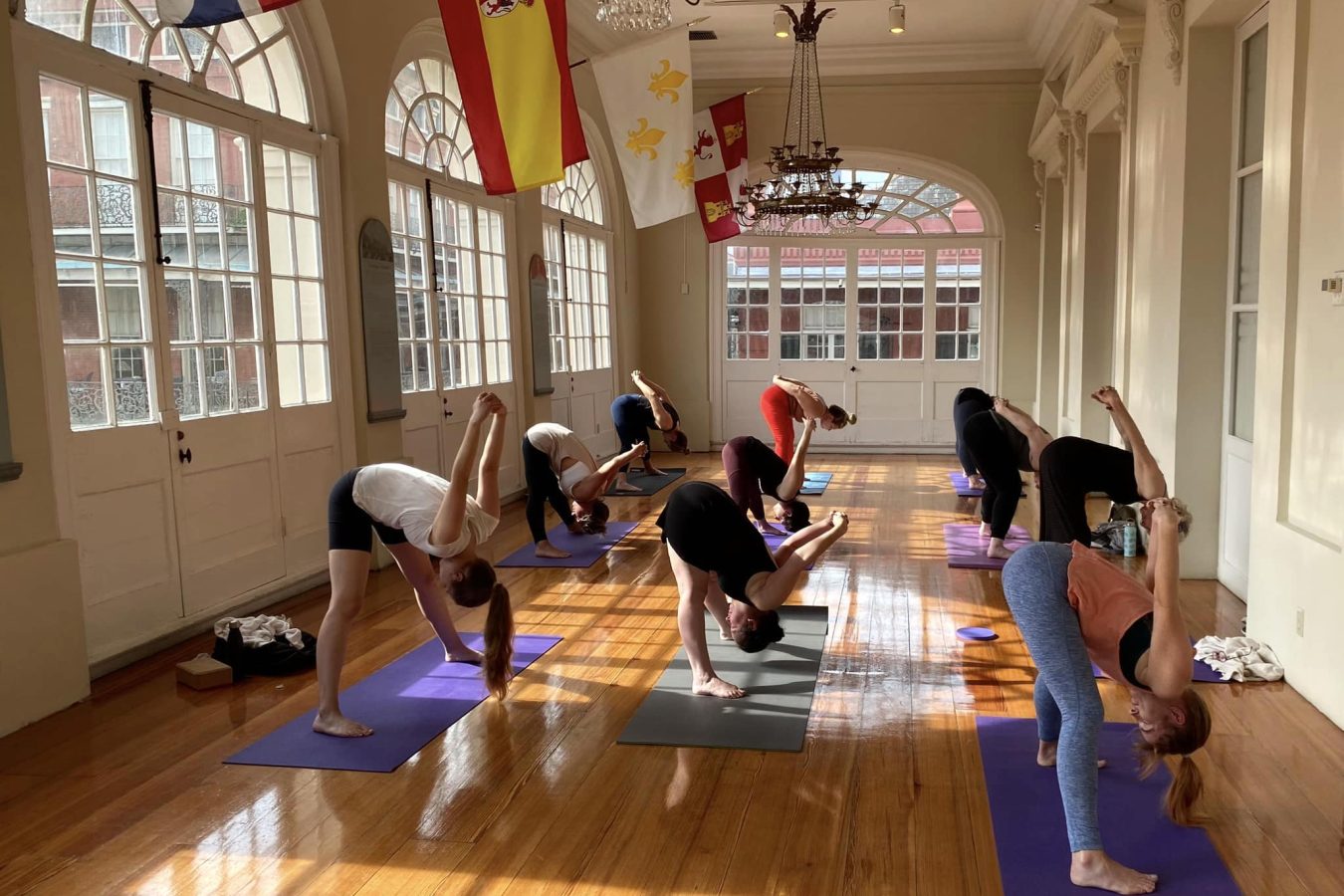 New Orleans may be the city that care forgot but that doesn't mean it has to be the city where your fitness regime is forgotten, too. Admittedly, it's not always easy to stay disciplined, especially on vacation. Between beignets, jambalaya, eggs Benedict and bourbon milk punch, the Crescent City offers many delicious ways to fall off the wagon, diet-wise.
But what most people don't know is that the French Quarter also is host to several fantastic gyms, running paths and group exercise classes. If all else fails, just walking the Vieux Carré's slate-paved sidewalks is a great way to plow through calories — strap on a pedometer and watch the steps add up alongside your sightseeing.
Craving a more intense burn? Here are some fantastic workouts that'll take you into the vibrant, bustling heart of the French Quarter itself.
Running the Riverwalk
More than 16 million gallons of water roll down the mighty Mississippi River every minute — and with this sunny riverside run you'll be getting in the flow right alongside them. Looking for an energizing two-mile route? Make a right when you hit the river, jog through scenic Woldenberg Park until you approach the Aquarium of the Americas, then double back and run to the opposite end of the Moonwalk (a paved path named for former mayor Moon Landrieu).
For a more challenging, 5.5-mile route, tack on a jaunt down Crescent Park. You'll exit the Moonwalk, make a right on Decatur Street, follow it to Esplanade Avenue, turn right on Esplanade, and follow the signs to a beautiful 1.4-mile linear park connecting the Bywater, Marigny and French Quarter. Run to the end and back, and by the time you return to your room, you'll have racked up almost a 10K.
P.S. Forget to pack your sneakers? The Outlet Collection at Riverwalk, where you can snag a pair of discount designer running shoes, is just steps away from this path.
A local staple since 1872, frequented by stars ranging from Tennessee Williams to Clark Gable, this opulent gym is worth a visit even if all you do is splash in the pool. (Where else will you find chandeliers, ballrooms, a library, and a full bar alongside top-of-the-line fitness equipment and weights?) The daily drop-in rate includes admission to yoga and group exercise classes, or come for free as a member's guest.
Sure, you can schedule a group pole class or a bachelorette party with this fitness studio located at The Shops at Canal Place, but Pole Perfect Fitness also offers a more serious fare — though still with a fun vibe — such as pole classes, hooping, and Pilates.
For many, high-energy group exercise classes are a great motivator. (You're not going to phone in your workout when an instructor is right there demanding more reps, right?) The Sweat Social is a group exercise class geared toward travelers, offering yoga, high-intensity interval training, mat Pilates, bodyweight strength exercises, kickboxing, and many other workouts for people of all fitness levels.
Best of all, instructors encourage participants to mingle with team-building exercises, icebreakers, and raffles — so who knows, you might find a new drinking buddy to grab cocktails with after class. Scheduled on demand, classes are held in central locations in the French Quarter. Pricing varies depending on the type of class and group size.
This elegant building housed the Spanish colonial building in the 1700s, and now it's a venue for yoga classes (also, a museum). For a double dose of history and fitness all under one French mansard roof, check out Yoga at the Cabildo. Appropriate for all practice levels, classes take place in a sunny, high-ceilinged room overlooking Jackson Square on Saturdays at 9 a.m. They are $20, or $10 for Friends of the Cabildo members.
Remember, you can walk to all these venues from your hotel! Take advantage of the Hotel St. Marie specials, group rates, and best-rate guarantee for greater savings to spend on New Orleans famous French Quarter cuisine and enjoying everything this magnificent city has to offer. Reserve your room today!