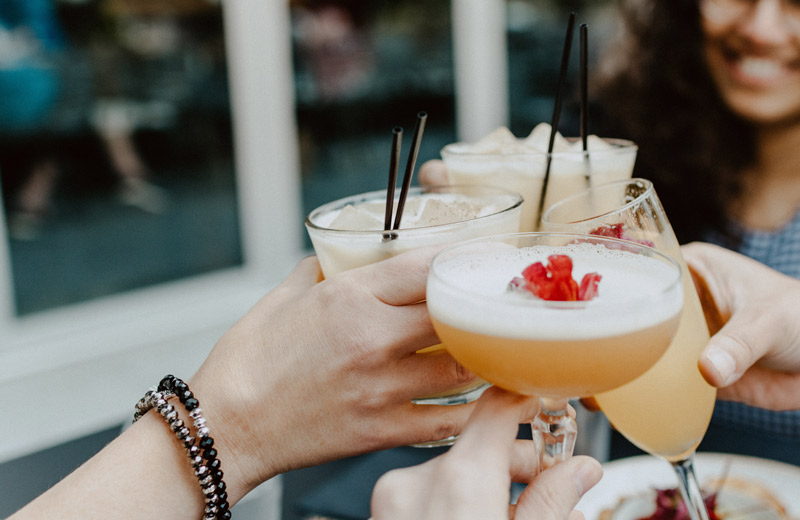 Photo by Kelly Sikkema
New Orleans is the belle of the South, perfumed with magnolias and veiled with mysterious secrets, and her crown jewel is the French Quarter. Small wonder it's become the destination of choice for fun-loving ladies from near and far.
Place d'Armes makes a great base camp; it's right by Jackson Square, where colorful fortune-tellers ply their trades. But you don't need a soothsayer to predict what the future holds. You're here to eat, drink, and be merry (and do a little power-shopping). This guide helps you chart your course, but it's only a starting point. Once you get the lay of the land, make it up as you go along. Discovering hidden gems on your own is part of the fun of the French Quarter.
Rise and Shine at Cafe Du Monde (800 Decatur St.)
Since 1862, New Orleanians have been dipping sugar-dusted beignets into steaming cups of cafe au lait at Cafe Du Monde, where jazz combos provide a jaunty soundtrack and silver-painted mimes across the street stand still as statues. It's a great introduction to the charms of the Quarter, and the perfect place to caffeinate for your adventures.
Browse the French Market and Stroll the Riverwalk
Cafe Du Monde is the gateway to three centuries of history in the French Market (1100 N. Peters St.), where you'll find a lively flea market packed with affordable New Orleans souvenirs and handmade crafts by local artisans. Grab a sweet treat from Loretta's Pralines, then stroll along the Mississippi and watch the passing parade of tourist riverboats and working vessels.
Have a Boozy Lunch or Brunch
For old-school elegance at bargain prices, you can't beat the $20 three-course prix fixe lunch at Antoine's (713 St. Louis St.), where you can wash down house specialties like char-broiled oysters with 25-cent martinis. Or live large at the Sunday jazz brunch at Arnaud's (813 Bienville), and splurge on signature dishes like Savory Crabmeat Cheesecake, topped off with boozy Café Brûlot prepared tableside with fanfare and flames.
Go on a Shopping Spree
Release your inner diva at Fifi Mahoney's (942 Royal St.), home of the wildest wigs on the planet and scads of glam accessories. Head for Bambi Deville Vintage (632 St. Ann St.) to try on timelessly elegant styles. And don't miss Trashy Diva (537 Royal St.), which specializes in vintage-inspired dresses that make women of all sizes and shapes look like Hollywood stars.
Sip Classic Cocktails in Elegant Bars
It may be a UK import, but the Pimm's Cup went viral in the 1940s at the Napoleon House (500 Chartres St.), which remains the go-to spot for the summery, herbaceous, gin-based cocktail. Sip a couple cucumber-garnished Pimm's, then keep the buzz going with the namesake drink at French 75 (813 Bienville). Named one of the Top 5 Bars in the country by Esquire, its signature cocktail blends Courvoisier VS, lemon and sugar with Moet & Chandon champagne.
Dine Out in a Swanky Restaurant
Woman cannot live by po-boys and muffalettas alone. Doris Metropolitan (620 Chartres St.) caters to adventurous carnivores with aged Japanese beef and exotic entrees like "Falls off the bone Shpondra (short ribs)," cooked 24 hours and served with root puree. And seafood lovers swoon over the menu at Tableau (616 St. St. Peter St.), which offers a truffled crab claw appetizer and redfish cooked in blue crab butter and white truffle oil.
Go Dancing on Frenchmen Street
After all that eating and drinking, it's time to burn off some calories. There's no shortage of places to hit the dance floor on Frenchmen Street, the city's premier live music corridor. Though no longer a "local's secret," you're guaranteed to have a blast at more than a dozen clubs in a few short blocks where the music goes well into the wee, wee hours. Top hotspots include Blue Nile (532 Frenchmen St.), The Spotted Cat Music Club (623 Frenchmen St.) and d.b.a. (618 Frenchmen St.)